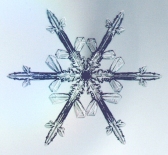 Let's answer this question in several parts. First,
Why are snow crystals six-fold symmetric?
The hexagonal symmetry of snowflakes originates with the underlying symmetry of the ice crystal lattice. Water molecules hook up in a hexagonal lattice (see the Snowflake Primer), and the molecular symmetry is imparted to the snow crystal form via faceting (see Crystal Faceting for more on how this works).
In particular, tiny snow crystals are usually in the form of small hexagonal prisms (see the Snowflake Primer), which is how the six-fold symmetry of snowflakes gets its start.

Second, let's ask
Why do snow crystals have such complex shapes?
If faceting always dominated snow crystal growth, then snow crystals would always be shaped like simple hexagonal prisms. Faceting does dominate when the crystals are very small, or when the growth is very slow. But larger crystals tend to branch out, through something called the branching instability, which is described in some detail at Snowflake Branching. Instabilities like this often produce complexity in nature -- the complex fluttering motion of a flag in the wind and the complex motion of waves breaking on the beach are other examples of instabilities in nature producing complexity.

Finally, let's look at the original question by following the life story of a complex symmetrical snow crystal.
The growth usually begins up in a cloud with a minute dust particle, which provides a structure on which water molecules can start condensing to form a snow crystal. When the crystal is very small, faceting dominates the growth, and the crystal quickly grows into a simple hexagonal prism.
As the crystal grows larger, the corners of the hexagon stick out a bit further into the supersaturated air and thus grow a bit faster. The slightly faster growth at the corners soon causes the hexagon to sprout arms (see Snowflake Branching). And since the ambient atmospheric conditions are nearly identical across the crystal, all six budding arms grow at roughly the same rate.
The temperature seen by the snow crystal is not constant in time, however, since the crystal is being blown about and is thus carried over great distances in a cloud. But the crystal growth rates depend strongly on temperature (as is seen from the morphology diagram). Thus the six arms of the snow crystals each change their growth with time, reflecting the ever-changing conditions in the cloud. And because each arm sees the same conditions, each arms grows the same way.

So that's the story. The intricate shape of a single arm is determined by the ever-changing conditions experienced by the crystal as it falls. Because each arm experiences the same conditions, however, the arms tend to look alike. The end result is a large-scale, complex, six-fold symmetric snow crystal. And since snow crystals all follow slightly different paths through the clouds, individual crystals all tend to all look different.
Click on image to view.